The photographer's
apartment
complete refurbishment of
an apartment
in a historical building at Budapest
The story

My client was a first-buyer and he wished to have a big enough apartment to have his photographer studio and have a decent living area as well under one roof. He had dreamt about a kind of minimalist, functional but balanced place, which could be a perfect background of his everyday life and work.

He had contacted with me before he bough anything.
So we went together for the viewings as well, and  we thought over the possibilities of layout changes in the corner coffee before he had made any agreement.
That was pure fun and hard work in the same time.

The apartment what he has found finally is in the heart of Budapest.
It was in really awful condition, but fortunately had also all the potentials to create a wonderful space to fulfil all his requirements.
That was obvious that we had to make so many changes, including wall removals, and functional changes.
We= me designing it + the wonderful construction team doing it real.

You can see before/after pictures if you scroll down.

To Create the style
We changed all the floor finishes, position of most of the walls and even swapped function (for instance the previous kitchen is now the bedroom, while the previous bathroom and hall became his living kitchen area).
On the walls we rather played with textures than with colours. The baseline is black, grey and white in different textures, also warmed up some oak finishes.
Although most of the walls have been removed or replaced, but we still kept some of the doors, because these old doors not even preserve some of the old athmosphere, but also balance really well the minimalist interior,  just giving it a strong face-lift.
Built-in furniture items (like kitchen, bathroom, wardrobes) were part of the design package but my client has chosen most of the loose furniture.
Tthere are some built-in items (living-room, bedroom) which have not been built yet, so the apartment is still improving month by month, but I believe that base of it is strong and nice enough to let it "grow".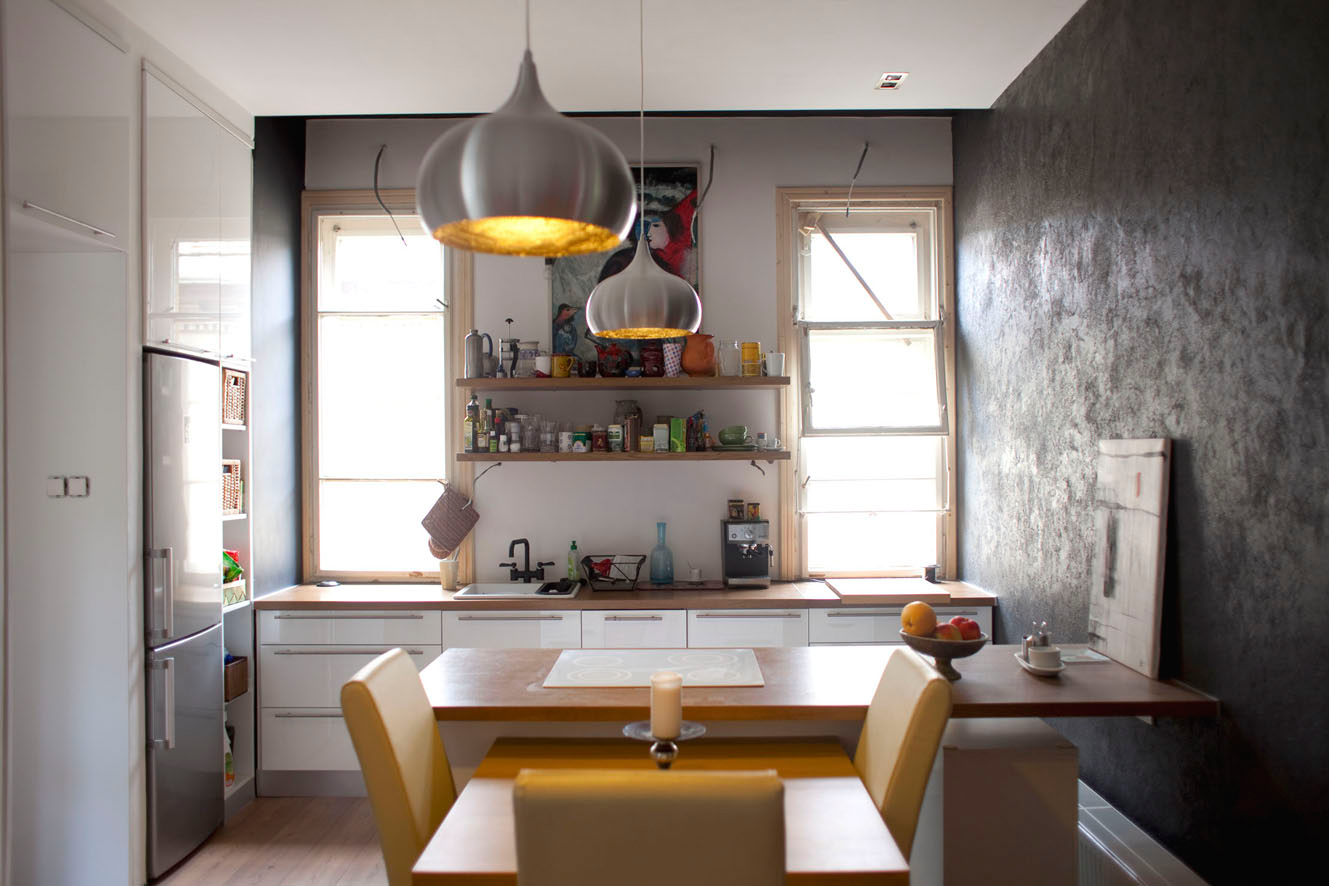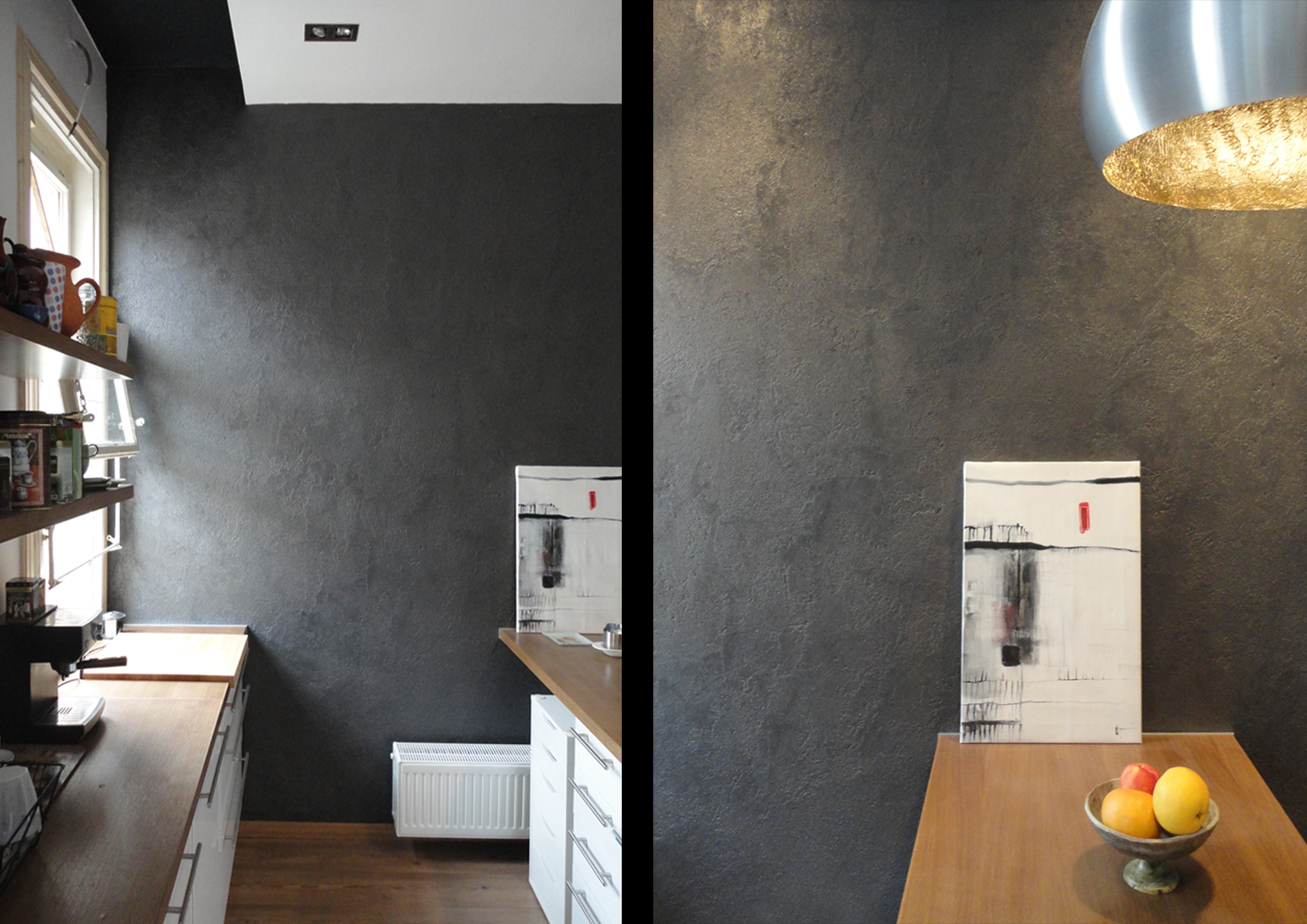 BEFORE / AFTER
 IMAGES
All of the functions have changed place here.
So hereby I am showing some before/after pictures with some explanations
Not even all the walls and floor were reconstructed but all the electrical, mechanical and drainage system had changed, including to replace the old chimney.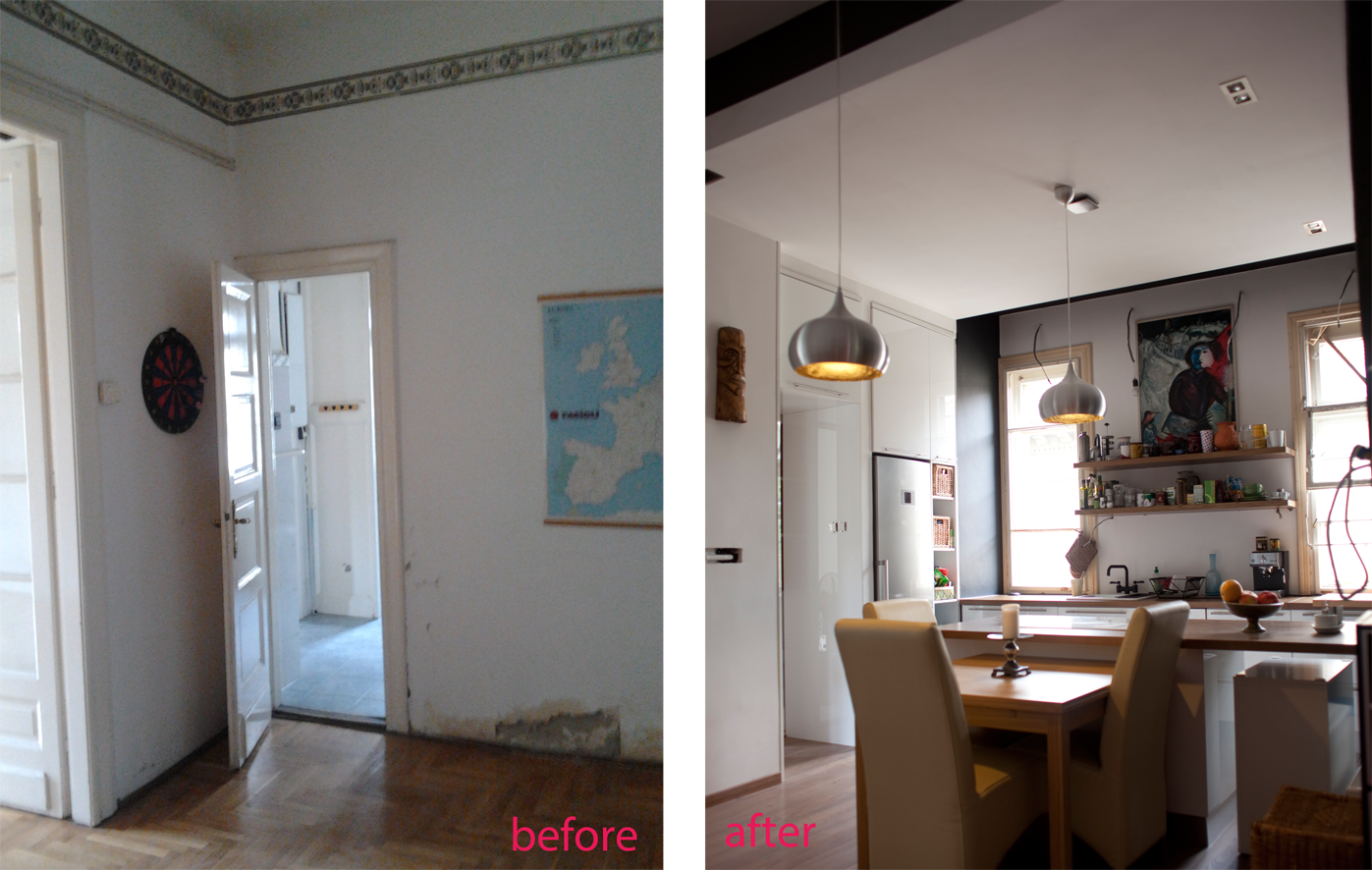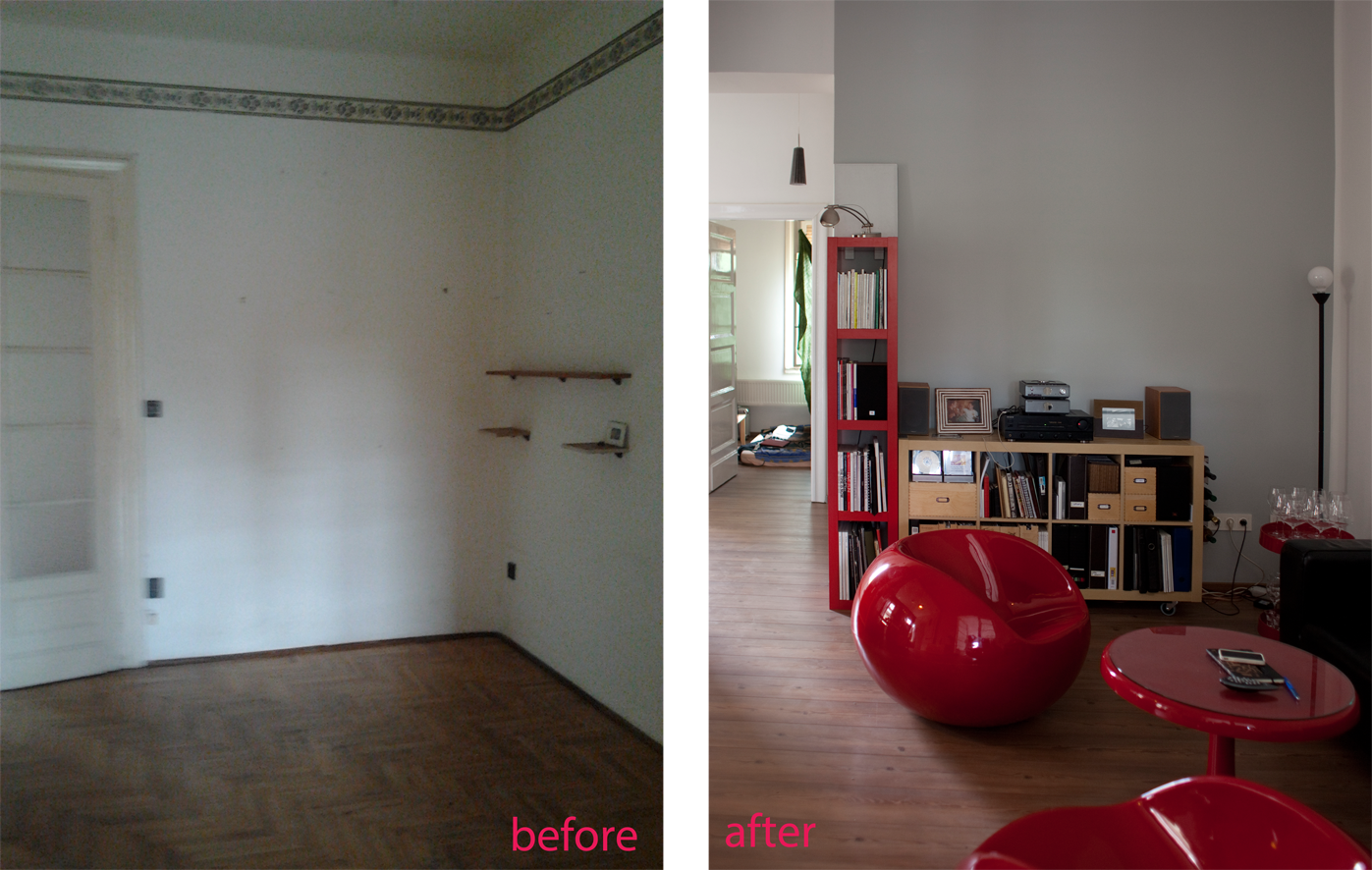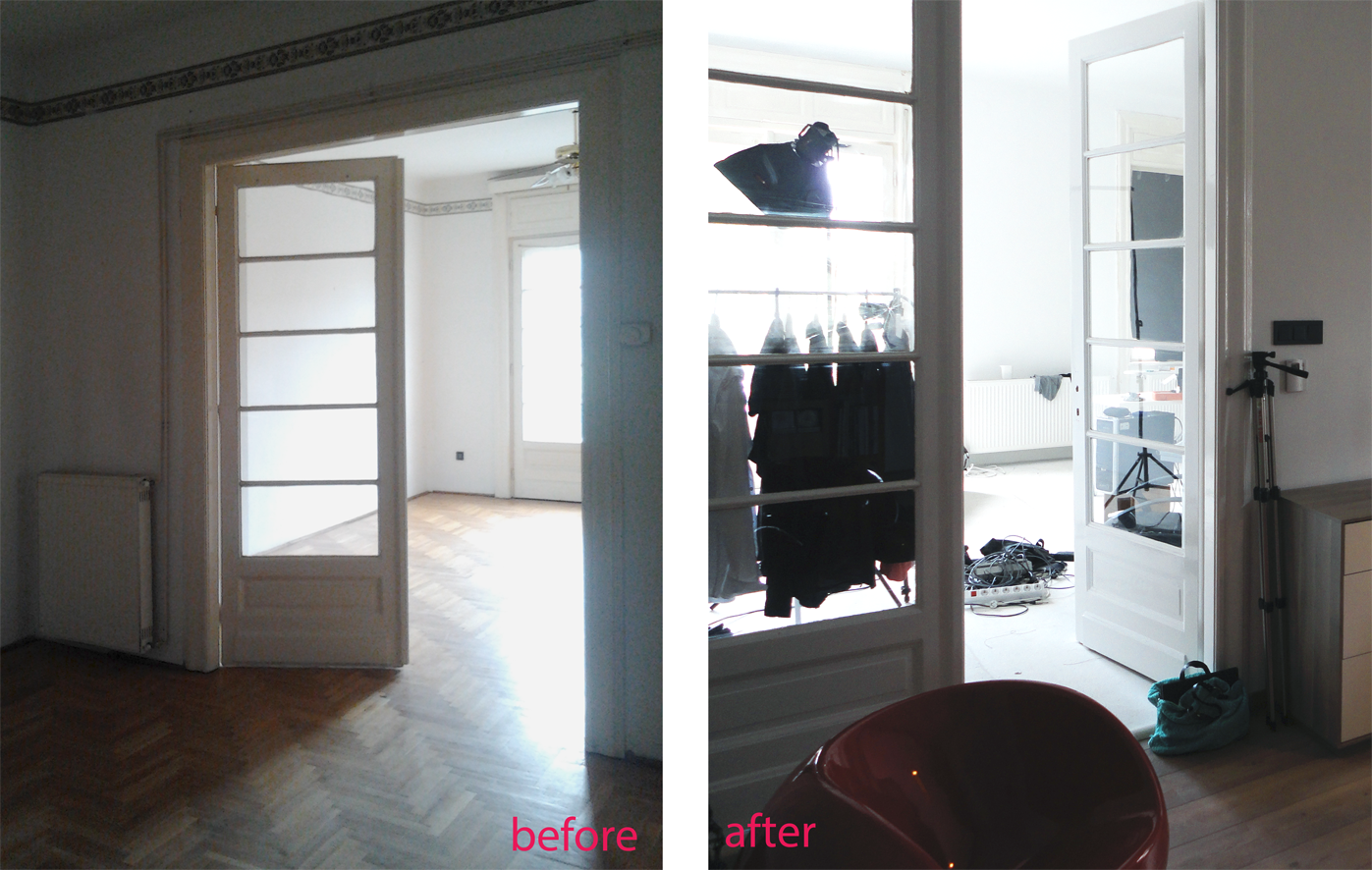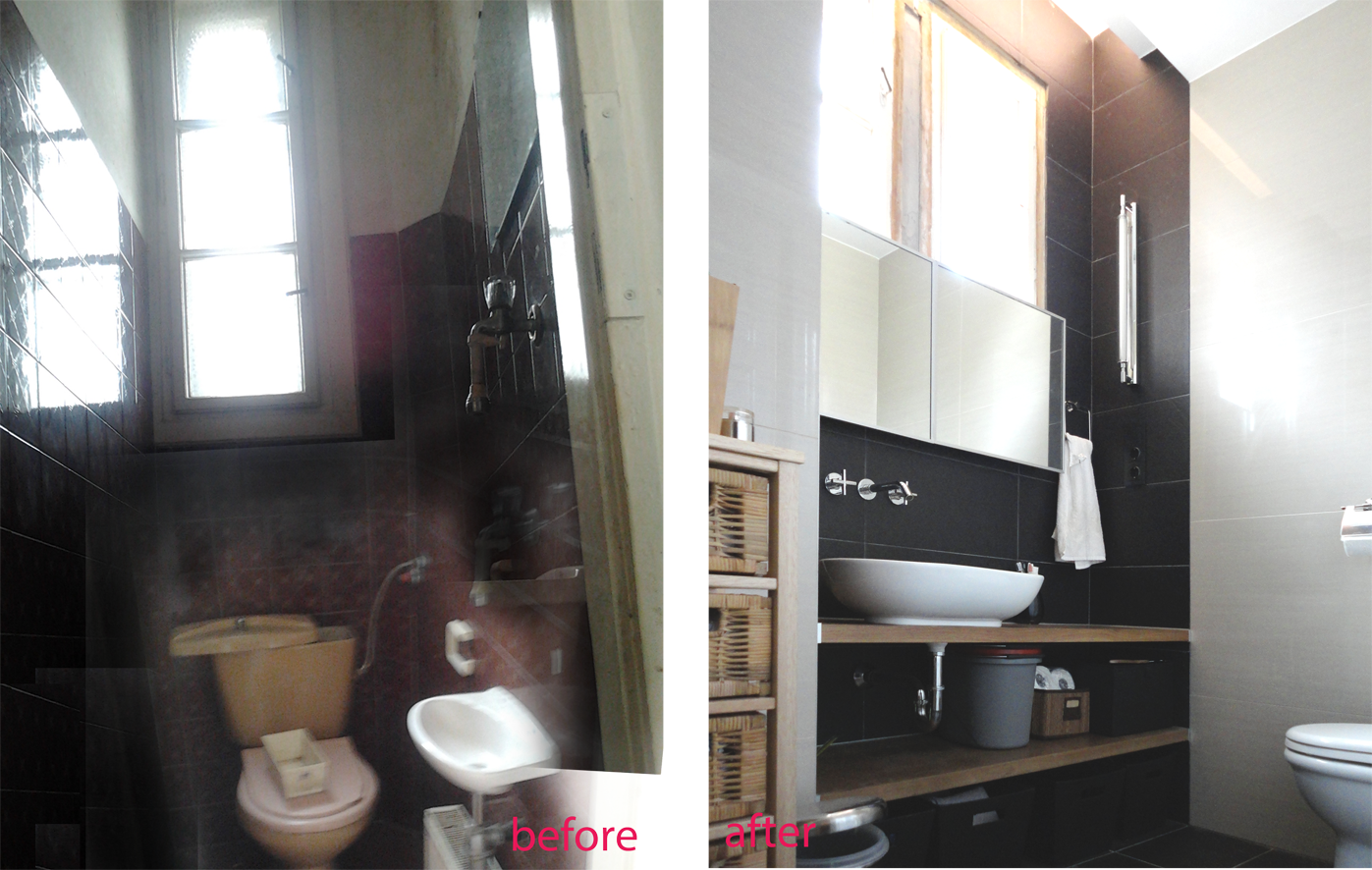 SOME OF THE DOCUMENTATION
Here you can see the original and the planed (and constructed) layout, and some sketches of the areas